About Hayashi Trout Farm
Hayashi Trout Farm is a fish farm of the oldest in the country in the Fukushima Prefecture Nishishirakawa county, gave the first cry in 1935. Over 70 years of salmon and trout farming ray fish, development and day-to-day research, such as the introduction of new technology, and has been thoroughly fish the fish of the highest quality at all times.
He is currently in the water salmon and trout fish farm to about 400t and about 10 kinds of farmed fish species, annual production, aquaculture area boasts one of the largest in the country. Research and development relentless, and experience track record, and at the same time make the pursuit of quality further, place the emphasis on the relationship of man and nature, you will enjoy a relationship find a new human and fish.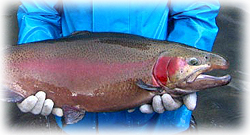 Aquaculture was part to parents from egg
In aquaculture facility, which boasts the area of ​​the largest (about 50,000 square meters) in the country, in a cycle that part to new fish from eggs, we are farming salmon and trout fish about 400 tons per year, of about five million animals. Fish brought up by hand has received high praise from our customers to recreational fishing for from edible.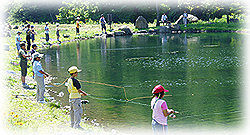 Fishing that provides fun moment
Become one with nature, offers a fun moment. Including the pound layout, we have produced a total as the facility from the surrounding environment, through to planting from the flow of water, you can enjoy customer who comes to fishing is Furea~tsu and fish. You can enjoy trout higher-grade beauty about mistaken and natural fish, and fished, to eat.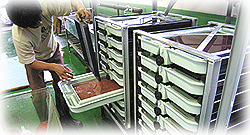 Consulting and equipment sales materials
I make use of a network of national and international experience and track record that it eyed egg from aquaculture equipment up, developed over many years, to provide things that field are in need the most, a good thing really. The consulting from the design of fishing and fish farms to, will deliver to everyone the know-how of many years on the water and fish.